Rusty Smith Becomes Tenth Different Winner Of Short Track SuperNationals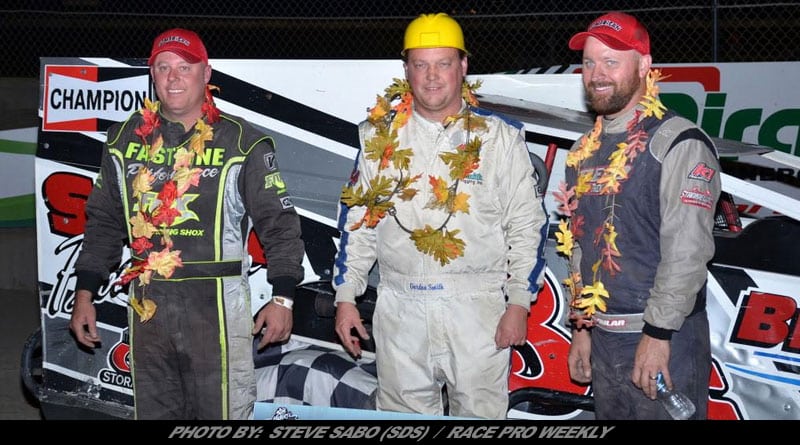 Column By: LAURIE FALLIS / RPW – AFTON, NY – It was a great night of racing for the Short Track SuperNationals at the Afton Motorsports Park. With clear skies and a racetrack that was in super condition and a purse paying $5,000-to-win, you can bet that the race teams were filling up the pits.
Well there were plenty…nearly 60 Big & Small Block Modifieds, to be exact, that were ready to do battle in the 50-lap race and become the 10th different winner of this popular event.
Heat races were lined up on how the drivers drew coming into the pit gates. There were six heats with three to qualify and top two redrew. Heat winners were Rich Ricci Jr., Nick Rochinski, Jordan Watson, Mike Gular, Allison Ricci and Nick Nye. The three consolation races had 13 cars in each and ran 10 laps with only two able to transfer into the big show. Mitch Gibbs, Corey Costa and first timer at the track Billy Pauch Jr. took those wins.
Also on tap for the Modifieds was the American Racer Challenge paying $2,000-to-win. This event was for all the track champions of American Racer Tire associated home tracks. They race one-on-one in a match race format and through process of elimination, if you won, you picked what driver you wanted to go up against next.
Dan Kreegan, Champion at Thunder Mountain, won the first two rounds but was then knocked out by Jordan Watson from Delaware International. He picked Afton's Andy Bachetti but only lasted one round as Nick Rochinski, Five Mile Point Champion, knocked him out.
Then, Billy Pauch Jr. from New Egypt won but in the last two rounds, the big cash went to Ryan Watt, the Bridgeport champ. Each participant received a free tire from American Racr and the fans really enjoyed the challenge. They were all exciting shootouts.
Finally, the showdown that everybody was waiting for. Twenty-nine cars took to the track for the 'Working Man's 50-lapper.' Due to mechanical problems, Duane Howard, who drew the pole position, was unable to start in the top spot and handed the pole to Kevin Jordan. Alongside him was #406 of Rich Ricci Jr.
The two brought the full field of cars to the green flag and it was Jordan that led the first circuit. Yellow came out after one lap was complete.
On the restart, the #22 of Jordan would hold the lead until the Jordan Watson took over on the outside. Meanwhile, Afton regular Rusty Smith was looking to take over the top spot. He would do so on lap nine.
Caution flew on lap 11. During the caution, Billy Decker, who made the field by way of guaranteed starting spot, went to the pits. He made it to the track to run the consi after running in the Great Outdoors RV 150 at Oswego earlier in the day. He did make it back out and rejoined the field.
On the restart, it was all Smith as he pulled away. Lap 30 saw Andy Bachetti, was on the move, make his way into second ahead of the #2 of Mike Gular. Mike Ricci and his brother, Rich, were your top five as the cream was rising to the top.
Caution on lap 34 had them all bunched up which helped the leader Smith as Bachetti was reeling the 34 in.
On the ensuing restart, it was again all Rusty Smith as he pulled away unchallenged. A scary moment for Smith was on lap 46. A pile up in turns one and two had the leader scattering to get by as it was directly in front of him.
The question was…could Rusty Smith hold of the challengers behind him on the last yellow of the race?
The answer was yes as he went on to grab a very popular win. Bachetti had to settle for second and with, a solid run, Mike Gular came home third. Mike and Rich Ricci were fourth and fifth respectively.
In victory lane, a very jubilant driver exited his car.
"I remember the first one at Five Mile Point," Smith said after winning the 10th annual event. "I was in the stands. "I'm glad I kicked their a## tonight."
He also said his team was questioning if it was all worth it because of coming up short so often. However, this victory makes it all worth it.
Also with victories on the night were Will Ward in the IMCA's. He was followed by Jake Maynard and Tyler Stoddard. The Street Stock Challenge was won by Thunder Mountain and Skyline track champion Lance Albanese. Also making their way to the Track was the Vintage Modifieds and it was the #03 of Mike Houghtaling in the victory.
Lots of cars and lots of people made their way to the Afton Motorsports Park on Saturday night. There's nothing better then being with my my racing monsters watching some awesome Dirt track racing and as always, have safe travels and see everyone at the races.
SHORT TRACK SUPERNATIONALS 10 RACE SUMMARY – AFTON MOTORSPORTS PARK OCTOBER 7, 2017
Bob Hilbert Sportswear Short Track Super Series Fueled By VP Halmar International Round No. 8 Modified Feature Finish (50 laps): RUSTY SMITH, Andy Bachetti, Mike Gular, Mike Ricci, Rich Ricci Jr., Bobby Varin, Nick Nye, Billy Pauch Jr., Jordan Watson, Brett Tonkin, Tommy Meier, Anthony Perrego, Allison Ricci, Danny Creeden, Billy Decker, Nick Rochinski, Jeremy Smith, J.R. Hurlburt, Steve Davis, Ken Titus, Chris Stull, Cory Costa, Richard Smith, Shaun Walker, Mitch Gibbs, Alan Barker, Craig Hanson, Kevin Jordan, Duane Howard.
Did Not Qualify: Harold Humphrey, Ryan Watt, Lee DeWitt, Darwin Greene, Dan Pompey, Matt DeLorenzo, Nick Mady, Kyle Van Duser, Kevin Sockriter, Brett Barrett, Mike Clapperton, Bob Stahl, Jerry Higbie Jr., Ryan Jordan, Adam Hilton, Joe Judge, Tim Mayne, Dan Hineline, Ricky Newton, Rich Eurich, Steven Deinhardt, Frank Yankowski, Paul Jensen, Ray See Jr., Kurt Decker, Steve Young, Dale Welty, Shawn Ward, Brian Malcolm, Larry Mekic, Jimmy Wells.
American Racer Modified Champion's Challenge: RYAN WATT ($2,000) over Duane Howard, Billy Pauch Jr., Nick Rochinski, Andy Bachetti, Jordan Watson, Danny Creeden, Richard Smith and Dan Pompey.
Trackside Products Street Stock Feature Finish (20 laps): DYLAN CECCE, Earl Zimmer, Kurt Stebbins, Tyler Yeagle, Gene Sharpsteen, Jerry Lobdell Jr., Shane Wolf, Dan Force, Jake Fowlston, Trevor Dudley, Dustin Harris, Damon Decker, Dave Cronk, Darren Cox, Zach Seyerlein, Bob Mills, Matt Bowman, Doug Polhamus, Chris Meshewske, Dan Mazzarese, Shawn Stalker, Shawn Boynton, Kody Sites, Lanson Albanese.
American Racer Street Stock Champion's Challenge (15 laps): LANSON ALBANESE ($500), Damon Decker, Dylan Cecce, Dan Force, Kody Sites, Doug Polhamus.
IMCA-Modified Feature Finish (20 laps): WILL WARD, Jake Maynard, Tyler Stoddard, Gary Roberts, Ken Buck, Mike Stoddard, Eric Stumpf, Jeff Austin, Keith Lamphere, Beau Ballard, Gary Smith, Keith Jack Lamphere, Tony Harris, Billy Ward.
Vintage Modified Winner (15 laps): MIKE HOUGHTALING