Jack Lehner & Ryan Watt Speed To Last Chance Showdown Wins For Modifieds At Super DIRT Week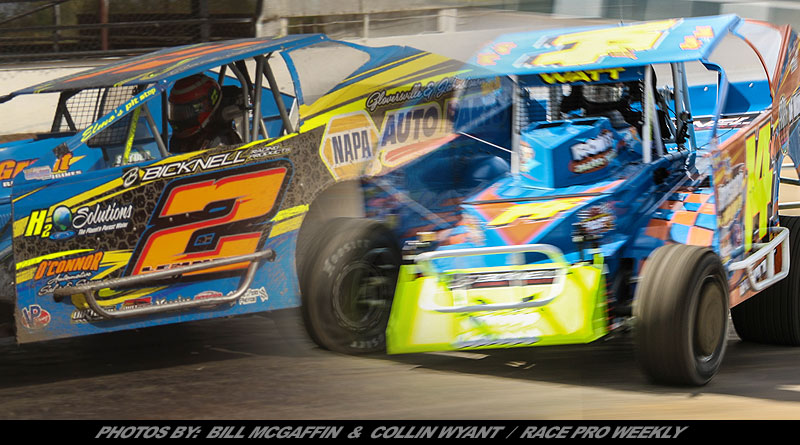 Story By: JOE GRABIANOWSKI / DIRTCAR – OSWEGO, NY – It took two Last Chance Showdowns, won by Jack Lehner and Ryan Watt, to set the final positions for the Billy Whittaker Cars 200. Jimmy Horton, Nick Webb, Rich Scagliotta, and Alan Johnson earned the rest of the available starting positions.
Jack Lehner rolls off from position thirty on Sunday, October 7. The no. 2 car looked strong as he outran veteran Jimmy Horton for the win. Ryan Watt had a strong showing as well, driving up from position 13 for the win in the second Last Chance Showdown and starts thirty-first in the Billy Whittaker Cars 200.
Jimmy Horton is a past NAPA Super DIRT Week Champion after taking the win in 1994. With experience, speed, and Halmar Racing equipment, he will be one to watch in the back of the pack. Nick Webb proved he has what it takes to run with the top drivers with a third-place finish that put him in thirty-fourth for Sunday's finale.
Super DIRTcar Series regular Rich Scagliotta lead early in the second Last Chance Showdown, but he could not hold off Ryan Watt. Scagliotta starts thirty-third in the Billy Whittaker Cars 200.
Fan-favorite Alan Johnson scooped up the third and final transfer position in the second Last Chance Showdown.
Due to the postponed Pittsburgher 100, Tim McCredie will not be able to start the Billy Whittaker Cars 200. His absence results in a bump in position for those behind him on the starting field and Billy VanInwegen making the grid in thirty-ninth.
Meanwhile, during the evening race at Fulton Speedway, Mike Maresca won the Dirt Track Digest Win in Your In, putting him in forty-first position for the 200.
The Billy Whittaker Cars 200 rolls onto the Oswego Speedway tomorrow, Sunday, October 7.
LAST CHANCE SHOWDOWN #1
Pos

No.

Name

Laps

Diff

Total Tm

Best Tm

1

2L

Jack Lehner

25

21:33.370

22.24 9

2

43h

Jimmy Horton

25
0.752

21:34.1 22

22.12 3

3

27w

Nick Webb

25
6.277

21:39.647

22.61 1

4

4v

Billy VanInwegen

25
6.803

21:40.173

22.19 2

5

18J

Louie Jackson Jr.

25

7.56 7

21:40.937

22.57 6

6
22

Brandon Walters

25
9.388

21:42.75 8

22.768
7

48T

Dave Rauscher

25

10.48 1

21:43.851

22.47 3

8

1ny

Greg Atkins

25

10.98 8

21:44.3 58

22.69 8

9
30

Joseph Watson

25
11.729

21:45.099

22.68 7

10
35

Francois Bellemare

25
14.572

21:47.942

22.84 2

11

R2

Rusty Smith

25

16.10 2

21:49.472

23.05 5

12

88a

Dave Allen

25

17.3 31

21:50.70 1

22.87 5

13
36

Brian Whittemore

25
18.753

21:52.123

23.18 7

14
118

Jim Britt

25

20.07 2

21:53.442

23.40 6

15

5k

Tom Keyes

25

21.03 7

21:54.4 07

23.33 5

16
20

Brett Hearn

11

14 Laps

4:07.620

21.93 1

17
15

Billy Pauch Jr

11

14 Laps

17:35.536

23.27 7

Margin of Victory                         Avg. Speed

Best Lap Tm

Best Speed

Best Lap by

0.752                                               43.49 1

21.93 1

102.5 95

20 – Brett Hearn
LAST CHANCE SHOWDOWN #2
Sorted on Laps

Pos

No.

Name

Laps

Diff

Total Tm

Best Tm

1

14w

Ryan Watt

25

22:26.833

21.60 9

2
8

Rich Scagliotta

25
4.633

22:31.466

21.97 4

3

14J

Alan Johnson

25
6.459

22:33.292

22.08 1

4

88m

Mike Mahaney

25
6.987

22:33.820

22.16 8

5
7

Rick Laubach

25
8.608

22:35.441

22.34 5

6

6jh

Josh Hohenforst

25

11.19 5

22:38.028

22.34 3

7
63

Adam Roberts

25

13.85 9

22:40.692

22.45 8

8

19m

Jessey Mueller

25
14.574

22:41.407

22.704
9

21b

Yan Bussiere

25

15.04 8

22:41.881

22.21 8

10

Z

Butch Tittle

25

20.39 4

22:47.227

22.785
11

14s

Brian Swarthout

25

21.88 6

22:48.71 9

22.781
12

22d

Jeffrey Daugherty

25

22.83 5

22:49.668

22.731
13
21

Kody Graham

24

1 Lap

22:27.910

22.89 0

14
16

Aaron Jacobs

24

1 Lap

22:37.821

23.30 1

15
11

Alissa Cody

24

1 Lap

22:40.259

23.34 1

16
34

Rusty Smith

9

16 Laps

17:55.420

23.09 4

17

28p

Eldon Payne Jr.

1

24 Laps

25.32 3

23.96 1

18
28

Mike Trautschold

1

24 Laps

25.52 4

24.318

Margin of Victory                         Avg. Speed

Best Lap Tm

Best Speed

Best Lap by

4.633                                               41.765

21.60 9

104.12 3

14w – Ryan Watt