Inman & Janczuk Have Epic Fulton Race, Battle Continues Tuesday At Utica-Rome's SDW Pre-Game Event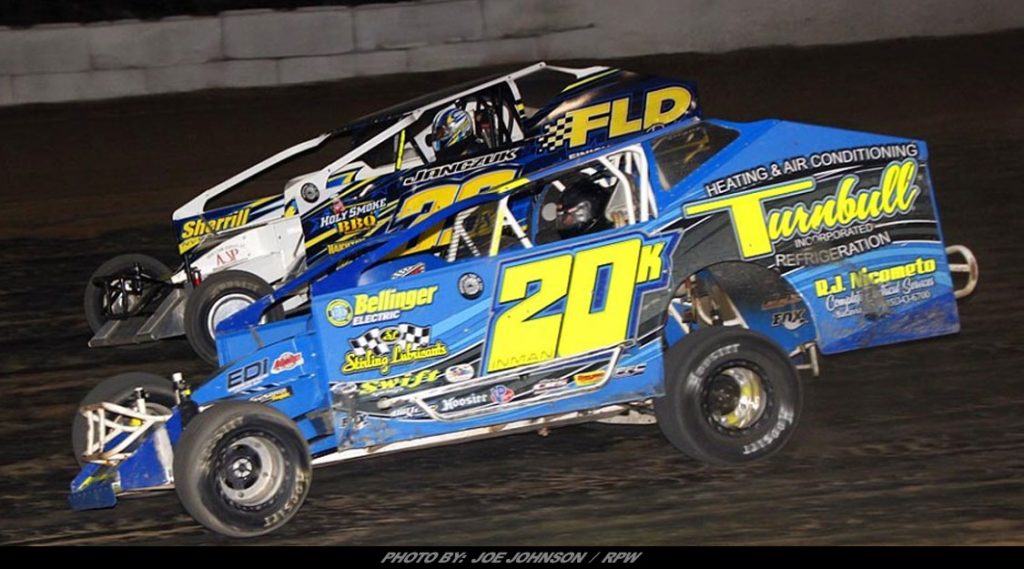 Story By: JOHN TIFF / UTICA-ROME SPEEDWAY – VERNON, NY – It seems like no matter what Matt Janczuk and Kyle Inman do as of late, they continue to find themselves battling it out for supremacy in the DIRTcar Sportsman division.
Late in August, Inman chased down Janczuk at the Utica-Rome Speedway to capture the win in the Ultimate Sportsman Showdown and the $2,500 that came with the win. This past Saturday the pair were at it again, and as he did in the Ultimate Sportsman Showdown, Inman tracked Janczuk down late in the 50-lap affair at the Fulton Speedway as part of the Outlaw 200 weekend to claim the top prize.
This coming Tuesday, October 8, the rivalry will continue at the Utica-Rome Speedway. Clinton Tractor presents Super DIRT Week XLVIII Pre-Game with the DIRTcar Sportsman Series joined by the DIRTcar 358-Modified Series.
By virtue of his second-place finish Janczuk trails Kevin Root by just six points as he chases his first DIRTcar Sportsman Series title. Inman now sits 26 points back in fourth. The others in the top five include Brad Rouse, who was third Saturday, and Jackson Gill.
Shane Pecore is sixth in the points, with Utica-Rome Speedway regular Chris Mackey in seventh. Zach Sobotka is eighth with Alan Fink, another Utica regular, in ninth. Jessica Power completes the top 10. These drivers are all expected to be in attendance to battle a strong field of locals looking to take the $1,000 win.
The DIRTcar Sportsman will be joined by the DIRTcar 358-Modified Series. 2019 Utica-Rome Speedway Champion Erick Rudolph has the lead in the series point standings over Dave Marcuccilli. Marcuccilli is coming off his first-ever top 10 in the Outlaw 200 on Saturday night. Corey Wheeler sits third in the points after a great season at the Cornwall Motor Speedway. Mike Mahaney, a former track regular, is fourth, with Tim Fuller in fifth. These drivers are expected Tuesday night along with several Utica-Rome Speedway 358-Modified regulars looking to defend home turf.
Race Day Information
The grandstands admission price for this event is $25 with seniors/military members/students costing $22. Children under 16 are just $5. Pit prices for the event are $30 for DIRTcar Members and $35 for non-members. Pit gates will open at 4 p.m. while spectator gates open at 5 p.m. Racing starts at 7 p.m.