RPW Exclusive Feature: Jimmy Phelps Nearly Pulled Off The Impossible Last Year At Super DIRT Week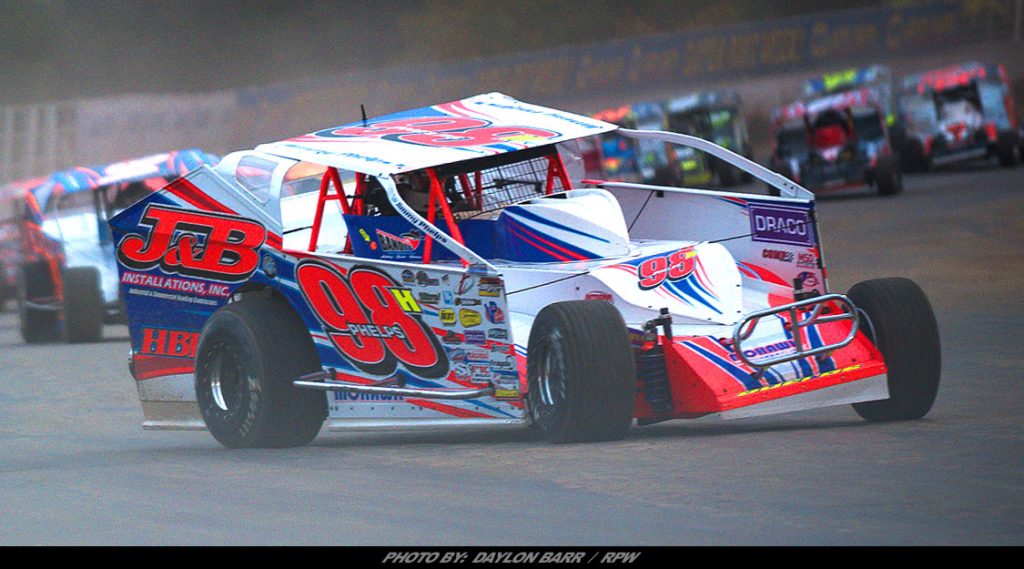 Column By: BOBBY CHALMERS / RPW – OSWEGO, NY – Strapped into his #98 HBR Teo Big Block Modified, ready to fire from the pole position in the biggest race of the season, Jimmy Phelps was ready to go, chasing his first win in the Billy Whittaker Cars 200. His team had everything prepped and their strategy was in place.
Then, it all changed.
Just passed the mid-race point, certain details of how the race was unfolding started to emerge. It became pretty apparent that where they were running, at the front of the field, was going to be very important if they had any plans on being the winner at the end of the day.
So, as we said, plans changed, and the team made the executive decision to stay out and run the entire 200 lap distance, without a pit stop.
Could someone actually do this? To many in the pit area, the fans, and even our Race Pro Weekly team, we were all scratching our heads wondering if this had been their plan all along because they showed no signs of questioning anything. When pressed for answers, some 360+ days since that event, driver Jimmy Phelps clued us in.
"To be honest, it wasn't our original strategy," Phelps said. "Our plan going in was much more conservative. We were going to pit for tires and fuel as late as we felt we needed to so that we could have a fresh car at the end."
So when did the decision get made?
"It wasn't until we got past halfway that the conversation switched to staying out the entire way," he said. "It was basically a product of track position, the number of caution laps we had already run, and the fact that it appeared the guys on fresh tires hadn't really had an easy time getting back to the front."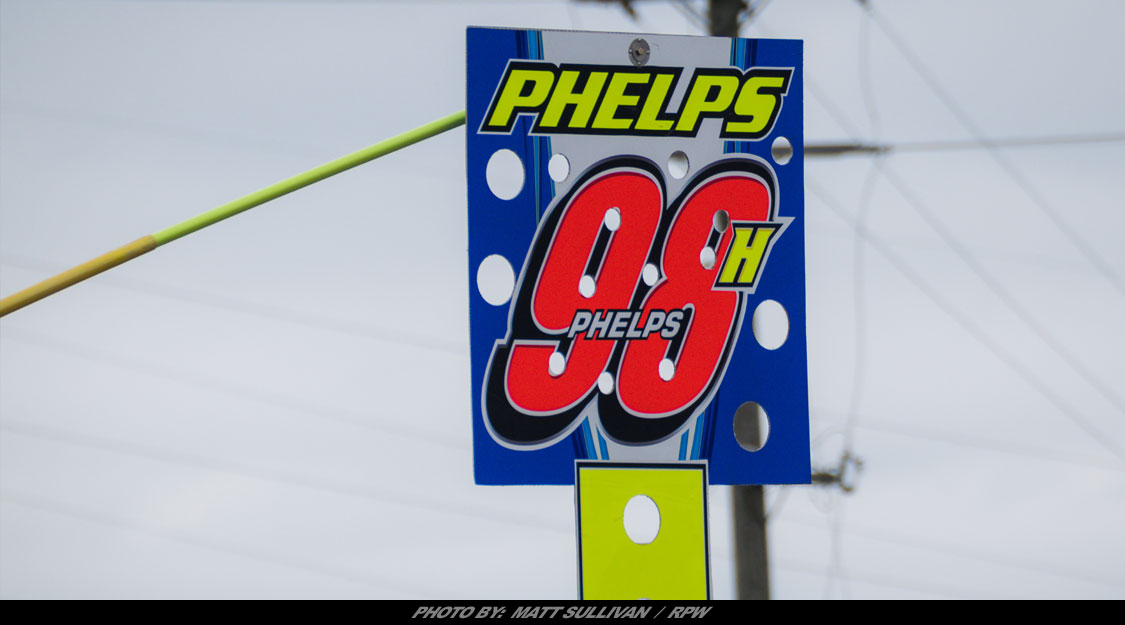 So Jimmy really started to save. He began trying to preserve his right rear tire because if that went away, he had no shot of holding off anyone. If he abused it and the tire blew, his chances were over. Oh, and if the VP Racing Fuel went dry in his race car, so went his chances at his first Big Block Modified win the crown jewel event.
"We hadn't really had to push that hard all race," he said. "Obviously, after we finally committed to trying to make it at around lap 125, we were being ultra careful. As things wound down, we were concerned about track position, tires and fuel. However, at that point, we were committed."
It had to be agonizing for Jimmy as a driver to realize he may have to let someone go so he could conserve. Even holding the lead, how did he keep his composure and stick to that strategy?
"Fortunately, our car had good speed and we didn't face a lot of challenges until late," he said. "As the race wound down and our tires and fuel load were depleting, we straight up fell off and got passed. There really wasn't much we could do about it."
Did the topic of pitting ever cross Jimmy's mind? Was he all in on the plan, or did he second guess as the laps clicked off near the end?
"The late red flag and all the caution laps at the end that weren't counting had us really concerned," he said. "However, we never discussed pitting until the engine started to flutter as the tank went dry."
In the end, Jimmy had to come in with just four laps remaining as the 22-gallon fuel cell in his car went empty. At the end of the race, he was credited with a 22nd place finish, but he'll always wonder what could have been.
"I still feel if the race had not had the red flag where we ran a bunch of uncounted laps, and all those late-race caution periods with the uncounted laps, we would have made it on fuel," he said. "That said, however, our tires had worn to the point where they really never felt as good after the red flag period. Combine that with the lack of fuel load for rear traction, the grim reality is we were going to struggle to keep the lead there at the end."
But even with all of those 'what ifs', could the HBR Motorsports #98H have been sitting in victory lane when the race was over?
"I'm confident we had a solid top three or five car if we hadn't run out of fuel," he said. "But we would've struggled to win."
Could we see this strategy play itself out again in the 2019 edition of the race? Is that something Jimmy and his team are contemplating?
"I would say that's a solid NO for a lot of reasons," he said. "With the caution lap policy they have in place for this year's event, it would be nearly impossible anyway."
Jimmy Phelps is a veteran who knows how to win. He's won several key races, visited victory lane in 2019, and even took home the 358-Modified Championship in the last run at the Moody Mile. However, the one he really wants to add to his resume is the Big Block Super DIRT Week title.
Last year, all of the cards were on the table and he almost pulled it off with the hand he was dealt. This year, I don't believe there's anyone in the pit area, the grandstands, or following along with the RPW live feed who would be surprised to see Jimmy standing atop his car in victory lane when the race is done this Sunday!