RPW Exclusive: Mat Williamson Pre-Games Super DIRT Week With A Cool $4,000 Payday At Utica-Rome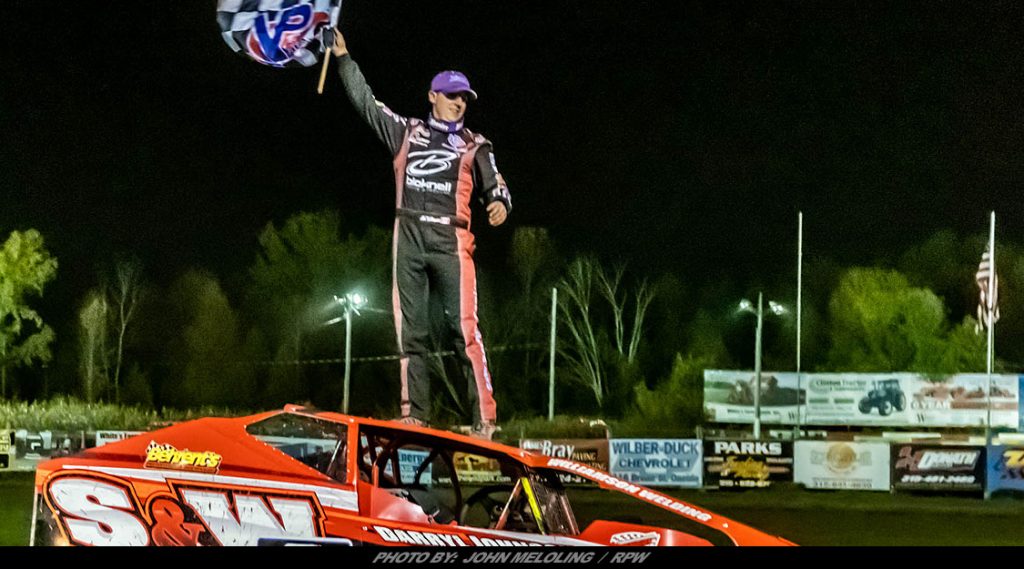 Column By: DYLAN FRIEBEL/ RPW – VERNON, NY – Flag to flag. That's what Mat Williamson ran Tuesday night. Nobody was a challenge for the youngster from St. Catherine, Ontario, Canada.
It was a dominant performance for Williamson and his crew. They won their heat which would put them second to draw in the redraw, they pulled Number one and got booed
"Man it wasn't cool to get booed by the fans while pulling one." He said. "I always want to put a show on for the fans and but I guess if you are getting booed, you're doing something right."
When the feature started, nobody was even a match for Williamson early on, however early cautions would save him from being in the thick of lap traffic. However right after the halfway point was the last restart and Larry Wight would challenge Williamson for two laps, however even he was no match for the 6, as just a handful of laps later the 99l went up in smoke. Mat Williamson went on to collect his second 358 Super Dirt Week Modified win at Utica Rome.
"It's Pretty cool to win this one." He said. "This was my big win two years ago that jump started my super DIRT Week two years ago. Fortunately we got it done again and can build on momentum going into Oswego."
With a good run out at the famed Eldora Speedway, wins in 358 series, Big Block and the Centennial race at Orange County, Williamson has had a banner year.
"It's awesome to win those races." He said. "Racing is all about confidence and we have it right now. Hopefully this Momentum will follow us right into Charolette."
With these big wins, he is now a household name and is a threat every night he gets in a car, however that doesn't get to Williamson.
"It doesn't get to me much." Mat Said. "I love the fans and the passion and they stuck through a cold night and it sucks for them when a guy wins from the pole but I will take it any day of the week."
With another win at Utica to kick off his Super DIRT Week, he looks to repeat the magic of his 2017 campaign. However, he hopes for a little bit better. Mat Williamson is on the map in the Northeast Dirt Scene.